Trailer Maximum Weights
Type 01: unbraked trailers - max. 750kg gross trailer weight or half the towing vehicle's kerb weight - whichever is less.
Type 02: trailers on overrun brakes - max. 3500kg gross trailer weight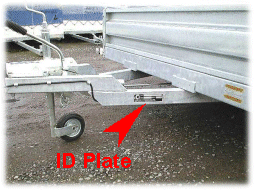 1982 regulations demand that all trailers, including unbraked ones, must be clearly marked with their maximum gross weight in kg. This may be checked at any time by the police at a weighbridge. Since 1st January 1997, all unbraked trailer plates must show the year of manufacture.
To comply with the D.o.T. Code of Practice for the recall of defective trailers less than 3500kg G.V.W. it is desirable that a trailer should carry a manufacturer's plate clearly showing:
Manufacturers name and address chassis or serial number and model number
Number of axles
Maximum weight per axle maximum
Nose weight of coupling
Maximum gross weight (G.V.W.)
Date of manufacture
Safe & Legal Towing Guide Disclaimer